What's up! This isn't The Wikily Slice. This is boring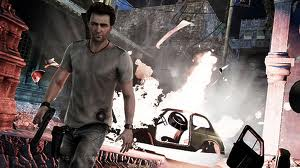 and formal. It basically says what has happened. In fact, it's kind of pointless. Oh, well. I'll liven up the next posts..
January 2012
Okay, first month done. It's gone quite well- We've created a Admin team, got the Wiki onto it's feet and generally worked hard.
This month I would like to see the Elder Scroll section on the navigation bar filled in a done.
Let's hope for a good month!
February 2012
Ok, the first revamped article! February is a good month! The Wiki's growing, but Fraser in his wisdom decided it REALLY needed to grow. What did he do? He added 500 pages! Yeah. That is a lot of pages that aren't even filled in. So, the Wiki's going crazy.
Socially Geo and I have started working on adding Flynn into some cool Uncharted pictures with the rest of the gang. Elena and I got into a fight and The Court saw its first case. Cool, right? A compromise was reached and alls good. Thats it for now, but I'll update it as I go.
Flynn 17:13, February 8, 2012 (UTC)
April 2012
Took one hell of a break. Need to get back into this. What we really need is to fill in those pages and get some users. Will we ever...?
September 2012
Took another hell of a break. Don't worry though, Mr Gutteridge is back and things are looking up. We're also supposed to have some new staff members so that should be cool. Let's get back to work.