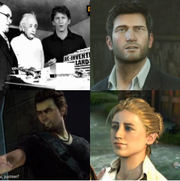 This Wiki should be used to find out anything you what to know about Bethesda Softworks and it's relevent companies, etc. You can also use the Wiki to join a community of people who want to talk about Bethesda an it's character's, games, leading figures, etc. Use it as you will. Just don't ruin the atmosphere. Jokes and laughs are great, stupid feuds are allowed, but don't become too serious, or the Wiki will become a much sourer place.
You use this wiki at the moment like any other wiki but there will be a point were will be telling you to upgrade to our new systems.
Last thing to say is this, I hope you enjoy your time on the Wiki, check out the Admin page under Community to meet the Inner Square. We're nice people. Hell you can even join us if you check out the Apply for Admin under Community and Other.
Also check out the 'Welcome Message' at the home page, under the picture slideshow to get a little introduction. This was a sponsered messagefrom Elena Fisher, The Public Face.
Got an Edit B?... 14:09, March 13, 2012 (UTC)